Kid-Made Christmas – 10 Ornaments and Decorations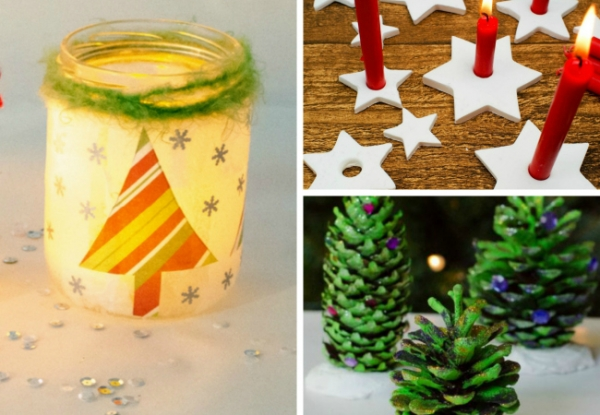 I have very few ornaments on my Christmas tree that came from a store. Most of them were made by my kids, and while my tree may not be displayed on the front of a magazine for its beauty, it's filled with special memories that I will always cherish.
Kids love to create, and Christmas is a wonderful time to get them involved in crafts because there are so many to choose from all over the internet! I've gathered together 10 ornaments and decorations you and your kids can make together over the next couple of weeks to add a touch of love and cheer to your home.
1. Salt dough ornaments are a yearly tradition for us. They hold up amazingly well for years, and they are fun and easy to make. You can find the directions in this post.
2. Wish list keepsake ornaments are always fun to look back on year after year. My kids love looking through their old keepsake ornaments every year when we decorate the tree. Simply write your child's wished-for toys and items on paper and stuff into a clear plastic ornament from the craft store. Fill with a bit of Epsom salt for a snow effect for multicolored pom poms for a fun look and hang.
3. These handprint snowman ornaments found at Little Bit Funky are perfect for small baby and toddler hands to make. You'll just some bulbs, white acrylic paint, and a sweet little hand.
4. This sparkly silver snowflake ornament by School Time Adventures is great for craft time and good fine motor skills practice. With a few pipe cleaners, fishing line, and beads, you can transform your tree into a sparkling winter wonderland!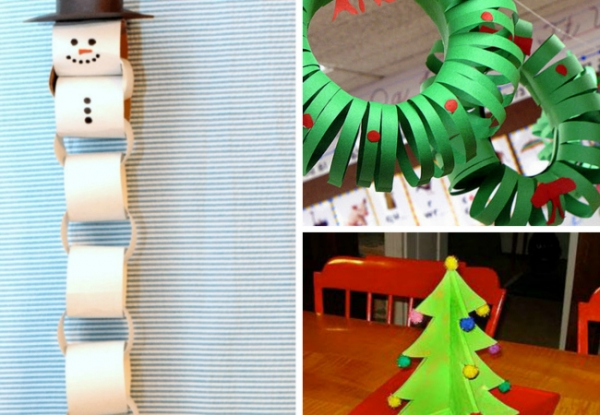 5. I love this construction paper wreath by Andrew and Rachel Ashmore. It does look a little complicated so it would make a great project for older kids.
6. We did a paper chain countdown last year when we were adopting a new pet. It helped my kids to understand just how many days were left until we got to bring her home. This snowman paper chain countdown will be a fun addition to your Christmas decorations! The kids can help make it and then remove a chain every day until Christmas. Exciting!
7. I am loving these magical Christmas lanterns so much, I think I'll get the supplies tomorrow and do this with my kids this weekend! I think they'd provide the perfect glow for a relaxing bath.
8. These pine cone Christmas trees leave me wondering "Why didn't I think of that?" They are so simple but look so beautiful. Add them to your Christmas village or just display them on a table.
9. Check out these kid-made star-shaped candle holders made of clay! They look like fun for toddlers and teens to make and they look adorable. I'd like to use these for advent!
10. Looking for a centerpiece for your table? Look no further than this Christmas tree craft your child can make. It'll look perfect!
Wishing you and yours a very Merry Christmas!